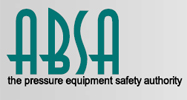 Boston—Cambridge Viscosity's flanged viscometer, or SPL/C 392 sensor, has been accepted for registration in the Alberta Boilers Safety Association (ABSA) Design Registration Program. This designation certifies that the sensor design complies with the Safety Codes Act.

"Being accepted into ABSA's program certifies that the SPL/C 392 sensor can be used in high pressureenvironments up to 1400 PSI," says Cambridge Director of Engineering Daniel Airey. "This sensor is particularly effective for marine fuel, oil pipelines and refineries."

The SPL/C 392 in-line viscometer provides continuous, real-time measurement of temperature and viscosity. The sensor's patented technology is based upon a simple, reliable electromagnetic concept. Two coils pull a piston back and forth within a constantly refreshed sample of process fluid. Proprietary circuitry analyzes the piston's travel time to measure absolute viscosity. A built-in resistance temperature detector (RTD) senses the actual temperature in the measurement chamber.

Measurements can be made in any of the 13 different 20:1 viscosity ranges, covering a span of 0.2 to 20,000 cP. The sensor is designed with a four-bolt stainless steel SAE Code 61 flange and is easily installed in pipelines ranging from 2" and larger. The sensor's self-cleaning feature provides for low-maintenance and ease-of-use across applications.


About Cambridge Viscosity

Cambridge Viscosity is the leading supplier of automated viscometers used by oil exploration and refining, coating, chemical and life science companies to optimize product and process performance. Cambridge Viscosity's sensors and viscometer systems conform to ASTM, DIN, JIS and ISO standards, with a range of models designed to meet specific industry and application needs.

Type certifications include ATEX, CE and FM. CSA certification is available upon request. Cambridge's global reach provides application engineering support and service wherever and whenever needed. To learn more visit www.cambridgeviscosity.com.