In-line Viscometer 301 Threaded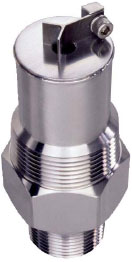 For Viscosity Measurements from 0.2 to 20,000 cP
The Model SPC/L301 is an in-line process viscometer that is installed in process fluids to provide continuous temperature and viscosity tracking. Our technology is based on a simple and reliable electromagnetic concept. Two coils move a piston back and forth magnetically at a constant force. Proprietary circuitry analyzes the piston's two-way travel time to measure absolute viscosity.
A deflector, positioned over the piston, moves fluid into the measurement chamber. This feature, coupled with the constant piston motion, keeps the sample fresh and mechanically scrubs the chamber. A built-in temperature detector (RTD) senses actual temperature in the measurement chamber.
The Model SPC/L301 viscometer has a 1 1/4" NPT thread to easily install into a process line using a "Tee", or into a large tank or pipe, using a weld ferrule.
Measurements can be made in 13 different 20:1 viscosity ranges within an overall span of 0.2 to 20,000 cP or the equivalent cSt. Maximum flow rate over the sensor head is 10ft/sec (3 m/sec).
*NOTE: ALL ATEX SENSORS ARE SPL ONLY (L = hard wired, C = connector).
Key Features:
• Acurate and reliable • Rugged stainless steel design • Easily installed and serviced • One moving part, no wear points • Proven technology • Mates directly to a 1.25" NPT "Tee"
Correlates with ASTM D445.
Approvals/Certifications:
• TIIS Approved IIBT3 #TC15403
• Approved for Class 1, Div. 1, Group C & D
• Approved for EEx d IIC T2, -20C<Tamb<190C
Dimensions: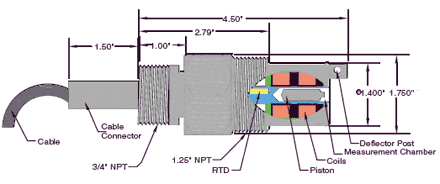 Specifications:
Viscosity
0.2 to 20,000 centipoise (cP)
Piston Ranges
0.2-2cP, 0.25-5cP, 0.5-10cP, 1-20cP,
2.5-50cP, 5-100cP, 10-200cP, 25-500cP,
50-1,000cP, 100-2,000cP, 250-5,000cP,
500-10,000cP, 1,000-20,000cP
Viscosity Accuracy
± 1.0% of full scale with VISCOpro 2000
Repeatability
± 0.8% of Reading
Temperature Sensor
4 wire internal Platinum RTD
Wetted Materials
316L and 430 Stainless Steel
Maximum Particle Size
25-360 microns (Range Dependent)
Max Ambient Temperature
375°F (190°C)
Max Operating Pressure
1,000 psi (70.3 bar)
Standard Cable Length
15 feet (4.57 meters)
Power
Requires VISCOpro electronics