Online Viscosity Controller VISCOpro 2000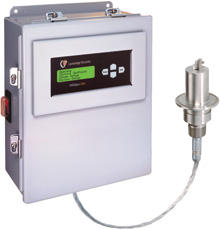 Monitoring and control for single-line process environments
Viscosity is a key success factor for many critical fluid processes. Successful operations assure that viscosity is constantly and properly controlled. This requires automated fluid monitoring for continuous, reliable, and accurate measurements. End-users also want the ability to easily change settings, measure different attributes, and capture and analyze real-time data. The VISCOpro 2000 provides this full capability, and is a robust viscometer that makes your job easier!
The VISCOpro 2000 viscometer offers menu-driven electronics to drive and interpret Cambridge Viscosity's high-quality in-line and in-tank sensors. Powerful yet easy to use, the VISCOpro 2000 provides viscosity, temperature, temperature-compensated viscosity, and optional density readings on an enhanced visual display panel. Thirteen factory-set standard measurement ranges from 0.2-20,000 cP are available for greater accuracy and process viscosity control.
Selecting operating characteristics, control set points, and alarms (six different settings) are easy using a menu-driven interface with RS232 (standard) and RS485 (optional) communications ports. A built-in 1,000-point data logger captures key data in real time that can be easily exported to common graphing programs for analysis. The VISCOpro 2000 can be easily programmed for up to 40 different fluid settings, enabling rapid changeovers in production processes—with consistent results.
VISCOpro 2000 Features
Four 4-20mA outputs for remote recording
TTL alarm alerts user and process line if viscosity goes outside of range
Remote operator interface feature allows for the sensors to be installed/mounted away from electronics/display—useful in process applications
Maintain process viscosity control by adding solvent or heat
Data monitoring/collection/storage and transfer/Graphs up to 25 hours of viscosity, temperature, and control data in real time
Multiple setups for different configurations, including set-point, data averaging, alarm settings, and TCV values
User choice of readout in cP, cSt, or SSU
All Cambridge Viscosity sensors and transmitters are field tested

Benefits
Ideal for single-line monitoring and control applications, the VISCOpro 2000 combines powerful electronics with our innovative sensor technology in a single automated viscometer. Its numerous features and benefits give users complete sensing and control of their process viscosity, making this a perfect in-tank or inline viscometer for any process environment.
Self-cleaning operation: The piston of the VISCOpro 2000 not only measures, but also self-cleans. The natural motion of the piston in the measurement chamber scrubs (self cleans) the chamber and continuously introduces new sample. This action does not affect measurement levels or data capture, but effectively eliminates particles and coating on the chamber walls that could interfere with the system's reliability. Further, the VISCOpro 2000 will automatically adjust to cleanout mode whenever necessary.
Automatic viscosity control (proportional-integral): Our automatic viscometer is factory-set yet configurable. Its microprocessor "learns" how much control is needed for each fluid setting, and automatically adjusts to the ideal level, maximizing accuracy and minimizing requirements for operator intervention.
Multiple output signals: The VISCOpro 2000 does more than simply measure instantaneous viscosity; it also transmits analog signals for temperature, and temperature-compensated viscosity (TCV); an optional density measurement is available as well. TCV is a particularly important attribute by mathematically eliminating the effects of variations in process temperature and increasing viscosity-control efficiency.
Automatic date and time-coded data logging: The VISCOpro 2000 works all shifts – so you don't have to! With automatic date and time-coded data logging, you have an audit trail to identify errors and changes to the process, as well as performance and quality trends. The data can easily be exported to spreadsheet programs for further analysis and customized reports.
Security and alerts: The VISCOpro 2000 features a supervisory lock-out function to prohibit unauthorized viewing of line status or changing of settings. When levels reach user-configured thresholds, alarms are triggered to alert operators so they can quickly take appropriate action.
Quick change memory settings: If your process line runs more than one fluid, very often each fluid requires its own viscosity control setting. When you change the fluid, you have to be sure to consistently and accurately change the settings. The VISCOpro 2000 is a great automatic viscometer that allows you to name each fluid and select its setting.
Technical specifications:
Power input
100-240 VAC, 12 VDC, 24 VDC, 12 W
Outputs
4 4-20mA; 1 RS232 (standard)/RS485 (optional);
1 5V-TTL alarm; 1 on-off port for alarm or control
Accuracy
± 1.0% of full scale (correlates to ASTM D445)
Repeatability
0.8%
Ranges
0.2-20,000cP (0.2-2cP, 0.25-5cP, 0.5-10cP,
1-20cP, 2.5-50cP, 5-100cP, 10-200cP, 25-500cP, 50-1,000cP, 100-2,000cP, 250-5,000cP,
500-10,000cP, 1,000-20,000cP)
Wetted components
Standard 316L/430 Stainless Steel
Optional: Hastelloy and Sanitary Components
Maximum temperature
190°C (sensor); 60°C (display electronics)
Maximum standard operating pressure
1000 psi (70.3 bar)
Optional operating pressure
2000psi (140.2 bar)
Temperature sensor type
4 wire Platinum RTD
Certifications
FM, 3A, CE, ATEX - EExdlllC (300 series sensor only) [EEx d IIC T4, -20C<Ta<95C (For SPL Models), EEx d IIC T2, -20C<Ta<190C (For SPL Models)] Factory Mutual - Class 1 Div.1, Group C, D:T3 NEMA4,IP-66
VISCOpro Monitor and Control Menus:
| | | |
| --- | --- | --- |
| Main Menu | | |
| | | |
| Operate Menu | Control Setup Menu | Supervisory Menu |
| | | |
| | | |
| | | |
ATEX Approved Explosion Proof Enclosure
VISCOpro 2000 Explosion Proof