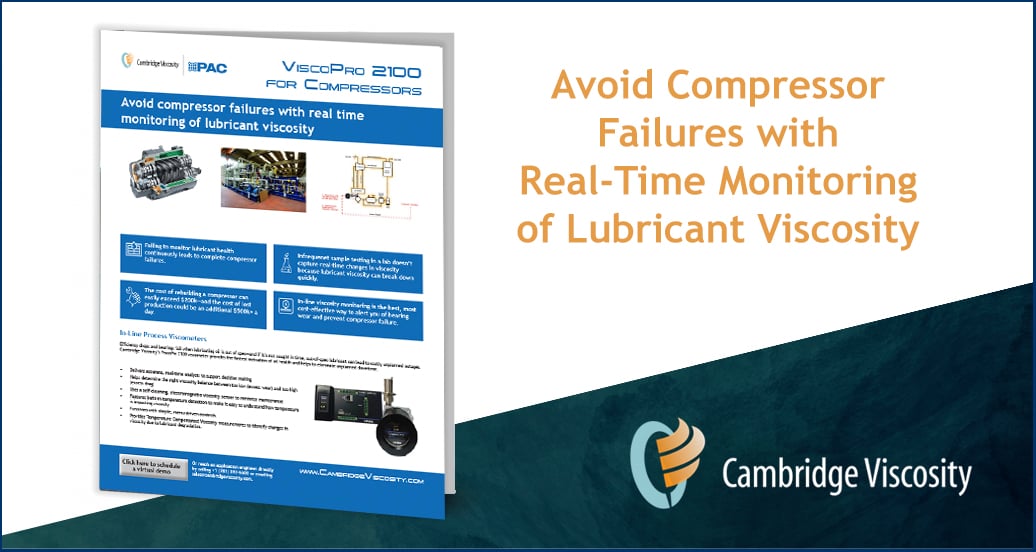 Click to download the one-page pdf detailing how Cambridge Viscosity helps refineries avoid compressor failures.
To prevent compressor failures, real-time monitoring of lubricant viscosity is crucial in industrial settings where screw compressors are used to compress gases such as air, natural gas, methane, and hydrogen. Screw compressors play a vital role in many industrial processes due to their ability to handle large gas volumes and operate at high pressures.
For equipment like screw compressors, lubricant is essential because it helps to reduce wear and tear on the many moving parts. When there is too little lubricant, wear increases, shortening the compressor's lifespan, while too much lubricant can hinder cooling.
When the viscosity of the lubricant is too thin, the lubricity of the oil is not adequate to prevent proper protection between the moving parts. When it is too thick, the equipment needs to work much harder to overcome the thicker oil, resulting in an inefficient increase in power usage.
Typically, refineries perform weekly or monthly lab checks to monitor lubricant viscosity. However, changes in viscosity can be unpredictable. As a result, this approach is not sufficient to prevent unexpected critical equipment failure and plant shutdowns. In the event of compressor failure, a plant shutdown can result in lost revenue of over $300k a day, increasing to over $1M a day for larger refineries. As the cost to rebuild or replace a compressor can range from $50k to $1M, it is essential to maintain lubricant health within the compressor.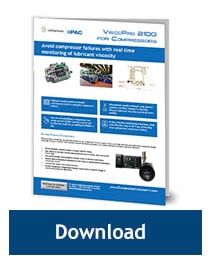 The viscosity of lube oil is influenced by several factors. These factors include:
Temperature: During startup, lube oil is cold and more viscous, affecting its lubricity and leading to failures in rotary and thrust bearings, which can eventually cause a plant shutdown.
Oxidation: When lube oil foams due to churning, more oil is exposed to oxygen, causing oxidation that increases viscosity. This will reduce performance, form sludges, and will also lead to corrosion of engine components.
Dilution: Methane and other gases can dilute lubricant oil, causing viscosity to drop.
Contamination: Hydrocarbon vapors in the process, soot, and fuels can mix with the lube oil, resulting in contamination.
Viscometers are Used to Find the Right Balance of Lubricant
Even with monitoring of lubricant temperature, frequent process stops and starts can cause significant wear and tear on rotating equipment such as bearings. Moreover, particulates can wreak havoc on process plants, and lubricants can contain particulates from their own manufacturing process or improper storage. Lubricants can also accumulate particles of soot or oxidize. Despite the use of separators, gas carryover can contaminate the lubricant. These issues can lead to plant problems, including costly and unplanned downtime.
The most effective way to safeguard large hydrogen screw compressors is to continuously monitor the lubricant viscosity. This approach provides real-time data, allowing operators to track lubricant health and set up alerts for problem detection.
Cambridge Viscosity's Solution for Monitoring the Viscosity of Lubricant in Screw Compressors
For real-time and continuous monitoring, the ViscoPro 2100 viscometer, equipped with a 301 or 372 in-line viscometer sensor, is the best solution,. Throughout the operation process, the ViscoPro 2100 tracks viscosity, temperature, and temperature compensated viscosity. These analog signals from the instrument are typically monitored by a PLC in the field. When an anomaly is detected, a message is sent to a predetermined group of emails. This approach saves lab and technician time and reduces the likelihood of costly equipment damage and downtime
Cambridge Viscosity's ViscoPro viscometers accommodate a viscosity range of 0.2 to 20,000 cP, a maximum operating pressure of 1000 psi, and a maximum operating temperature of 375°C.
Reach out to one of our application engineers for a demo of the ViscoPro 2100 viscometer.