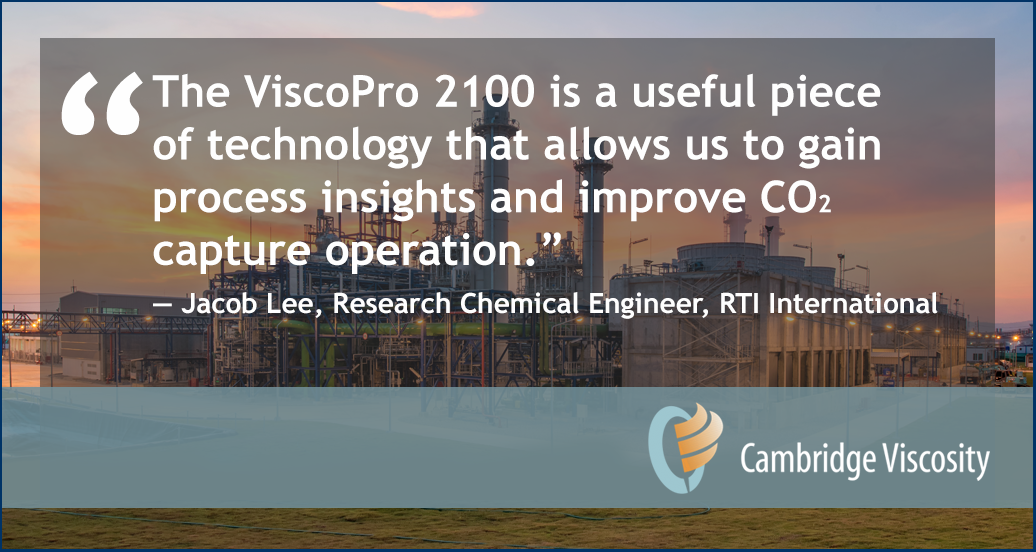 Because atmospheric carbon dioxide levels are higher today than they have been at any point in the last 800,000 years1, there's a need to develop improved ways to manage carbon capture. There are many different methods for carbon capture, but most tend to be energy intensive, water intensive, and expensive. The most common solvent is monoethanolamine (MEA), which has a significant water percentage (30% amine and 70% water). According to research from National Energy Technology Laboratory (NETL), by 2030, the addition of carbon capture technology could boost water consumption by fossil power plants by 80 percent.
RTI International, a US-based non-profit committed to researching new ideas and technologies to address critical problems with science-based solutions, is developing a carbon capture technology that requires less water and uses more active ingredients, making it more cost effective to operate, but they also needed to focus on reliability. They turned to Cambridge Viscosity for a viscometer that would support their development process.
USING A VISCOMETER TO UNDERSTAND PART OF THE PROCESS THEY COULDN'T SEE
The challenge of using amines to capture carbon dioxide arises because the amines become highly viscous—sometimes to the point of gelling. RTI wanted a viscometer to test the amine, which they know works, but even further, they wanted a viscometer that would provide a deeper level of insight into what was happening during the process. They knew that viscosity increases with carbon capture; they wanted a viscometer that would provide a depth of information to give them insight into how the process was working.
With a ViscoPro 2100, RTI was able to correlate a viscosity number—centipoise—to carbon dioxide loading. This insight allowed them to understand, given a specific number of moles of amine, how many moles of CO2 could be captured. Further, they correlated that number with the viscosity. They always knew that when carbon capture was high, the viscosity went up. Until the ViscoPro 2100, they never had a number for it.
Once they understood that number, it gave them insight into the process that they previously didn't have. For example, an increased pressure drop across the absorber column could come from a flooding or high CO2 loading. These two issues require different countermeasures to make process correction. With the ViscoPro 2100, they can identify the issue quickly and take a proper approach to adjust the process to an optimal operating condition.
SIMPLIFYING THE R&D PROCESS
For RTI, having a more complete idea regarding how the solvent behaves provided them with more certainty in the process. The R&D process is also much easier, because they have eyes on every part of the process. Before they had the ViscoPro 2100, they would need to manually extract a sample, test it using a benchtop viscometer, and then check the loading. It was time-consuming and did not provide the real-time feedback to allow effective process adjustments.
Quality assurance has also improved. When testing a new solvent, they can review historical data highlighting something they know worked, which improves their screening process. This cuts down on superfluous testing. Also, knowing that a test is going to work before they actually go through the effort to try something new is helpful, because it reduces the amount of cleaning. Scrubbing 40 liters of solvent out of every pipe and column and washing the system before a new amine is implemented is wasteful. The ViscoPro 2100 helps RTI avoid wasted time, material, and money. Download the full, three-page application note below.