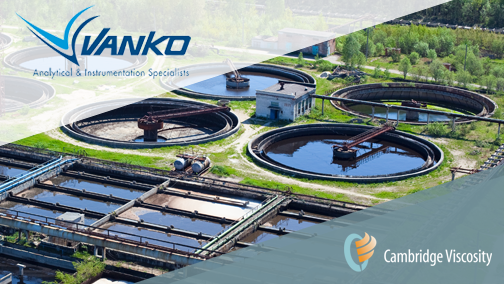 Cambridge Viscosity would like to extend our appreciation to our partner in Canada, Vanko Analytics LTD, for their recent hard work and efforts for securing a sale of our viscometers for a municipal wastewater project. In particular, Damian Kerry and Mohamed Farah went beyond the call of duty to accommodate the customer's needs! We do look forward to a bright future ahead!
Our customer elected to purchase a number of DIN-rail mounted ViscoPro 2100 viscometers equipped with our tri-clamp quick disconnect 311 sensor. This was chosen to permit simple removal of the sensor from the process for any maintenance needs which may arise. Our Electro Magnetic Viscosity (EMV) technology was selected for its self-cleaning ability resulting in low maintenance needs. This is paramount to minimize system downtime to avoid major negative consequences on the municipalities ability to provide critical services to their community. The ViscoPro 2100 4-20mA analog outputs for viscosity and temperature will be tied to a centralized PLC system to provide process monitoring and control to ensure the customer facility will be able to meet regulatory requirements.
Vanko Analytics has numerous locations throughout Canada and has been a proven partner for CVI, PAC, and Advanced Sensors for a number of years. Their coverage and specific knowledge in the product line will give you a significant advantage when you need to measure viscosity, oil in water, nitrogen and sulfur distillation and cold flow properties for a variety of process and refinery applications.
Since 1988, Vanko has developed a very strong and specialized presence across Canada, in numerous sectors of the oil and gas, chemical, power, pulp and paper, cement, mining and municipal industries, representing world class instrumentation and analytical manufacturers.
If you're in Canada, contact Vanko Analytics LTD for your process or laboratory #viscosity needs in the future.