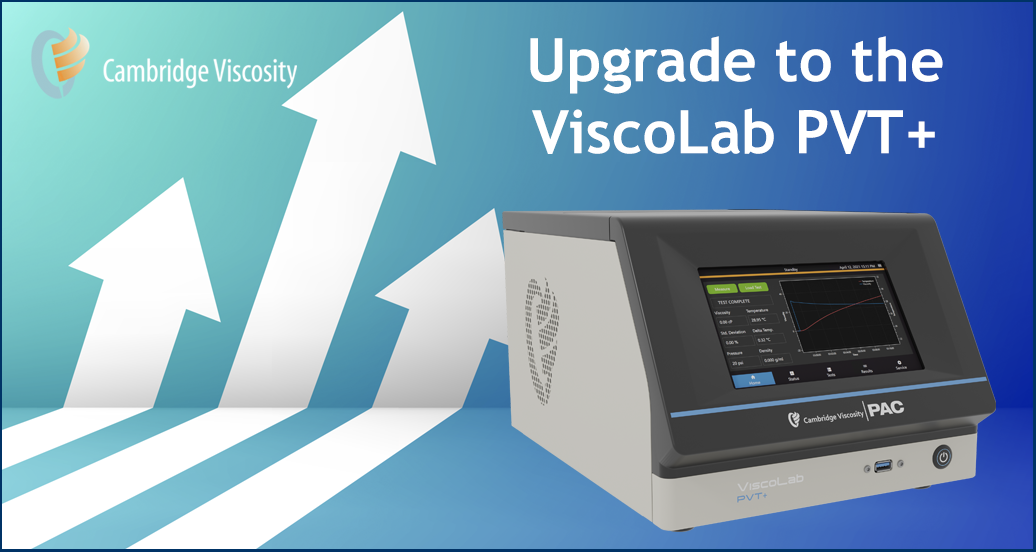 How long has your PVT viscometer been in use? If your viscometer is more than 10 years old, we should talk. Even if your legacy instrument is operating at acceptable levels, the latest technology offers a wealth of benefits that can deliver a fast ROI, and make a positive impact on your laboratory. Why should you upgrade?
Measure density and shear rate. delivers higher levels of functionality, compared to any other PVT viscometer on the market, and offers a wide range of measurement capabilities, including density and shear rate.
Change the pistons less often. The PVT+ features piston ranges at a 50-1 span. The span a single piston can cover is 20cP to 1000cP. The wider piston range means you need to change the pistons less often, which can be a time consuming (up to 3 hours) task.
Fewer components are required. The PVT+ has a built-in touchscreen interface, so a laptop is not needed to operate the instrument. Likewise, the pressure transducer electronics are also no longer needed.
Reuse existing components. If you have an existing system, you won't need to rip out and replace the entire unit. The PVT+ is backwards compatible with the existing hardware of the ViscoLab PVT. All you'll need to do is swap out the electronics.
Comply with CE and RoHS. CVI is committed to manufacturing safe, high-quality products, and our compliance with CE and RoHS attests to our high standards.
Bench space is valuable. CVI's new ViscoLab PVT+ comes with a smaller footprint and takes up less space in the laboratory, so you can use that space for other things. It combines the user interface, pressure transducer, hub, and electronics in a single, compact enclosure. When mobility is a requirement, the PVT+ fits on a 30"x40" cart and can be easily transported to other areas or laboratories. Plus, it has a low torque seal for easy assembly or disassembly.
Extend the pressure and temperature capability With a pressure range of 30,000 psi (greater upon request) and a temperature range of up to 315°C (599°F), the PVT+ accommodates applications like reservoir and fluid analysis or compressor applications where lubricants experience high pressures and temperatures in bearings.
The ViscoLab PVT+ is designed for the needs of a busy lab environment. It is easy to use and highly customizable, and it incorporates six measurement parameters to capture a wide range of actionable data. With broader specifications and a rugged design, the PVT+ is tough enough to handle severe-service applications. Ideal for applications where fluids undergo high pressure or temperatures, the ViscoLab PVT+ is commonly used in reservoir and fluid analysis, compressor applications where lubricants experience high pressures and temperatures in bearings, in R&D labs at universities, and for any applications where you need to understand how liquids perform under extreme conditions.
Have we piqued your interest? We're happy to tell you even more about it, and discuss the challenges you're having with your application. Fill out the form below, and we'll get back to you asap.