Today's blog discusses pressroom converters. (And we're offering a free white paper on the topic — see the link at the bottom of this post.)
Coating, laminating, and printing are classified as converting processes – raw materials such as solvents, resins, additives, hardeners, aluminum paste, and catalysts are added to a tank to be converted into coatings, paints, or inks. This is the beginning of the converting process, and where the challenge begins. Almost as soon as the materials are put in a coating tank, the they begin to degrade. Solvents evaporate, resins deform and compact, hardeners congeal, additives lose effectiveness, and catalysts become poisoned. All of these issues compromise quality and drive up operating costs.
The average pressroom only runs about 54% of the time. The remaining 46% is made up of activities like color matching, maintenance, customer trials, plates and ink, and preparation to operate.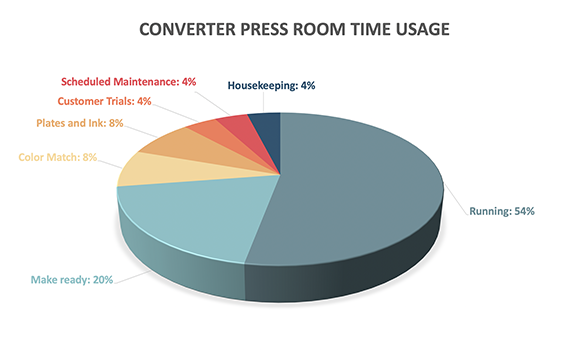 Viscometers and viscometer control systems can influence the amount of time required to make the process ready and for color matching – which take up about 28% of typical operations – in three main areas: film consistency, temperature, and color consistency.
Film consistency—and ultimately product quality—is directly impacted by the method of viscosity control.

When viscosity is controlled manually by operators, it's natural for the operator to apply a thicker coating to account for a margin of error.

Temperature has a significant impact on the relationship between viscosity and the concentration of solids in inks and coatings. When the ambient temperature drops, the viscosity of the inks and coatings is also impacted, and the viscosity must be adjusted to maintain a constant percent of solids.
Color consistency relies on maintaining a constant viscosity because thicker ink, which has more solids, delivers more color. Drying rates can also be impacted, as viscosity can impact solvent evaporation. As such, deviations in viscosity can have an impact on consistent print quality.
Improved coating consistency, quality, and cost savings can all be achieved in the make-ready and color matching processes with in-line coating viscosity control. For more information, download our white paper which highlights how in-line viscosity measurement helps to manage in-process coating quality.