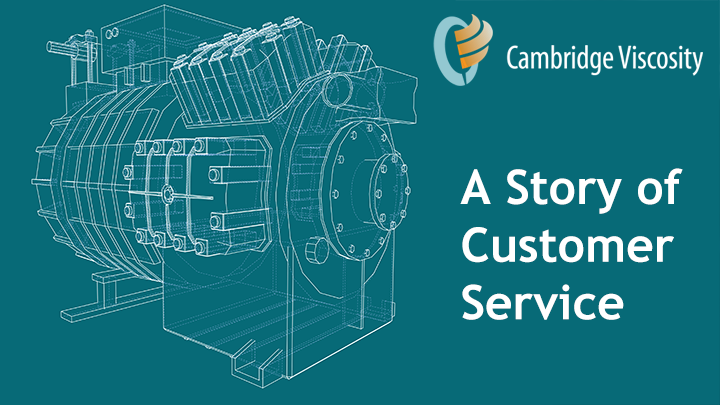 There are a lot of ways to demonstrate customer service. A quick response to an email, access to a knowledgeable human quickly when a customer has a question, a good support program, well-written technical manuals. The list goes on. For Cambridge Viscosity's sales manager, Rob Segnatelli, customer service occasionally takes the form of running samples for new customers using the ViscoPro 2100 that he keeps on his desk.
A few weeks ago, Rob mentioned that he was going to run a quick test for a company that was evaluating a viscometer. Before they made a purchase decision, they wanted to know how well CVI technology would differentiate between two types of the same fluid, in this case lube oil for commercial compressors.
"I probably run samples for customers who are evaluating our system at least once a month" Rob said. "It's not something that every customer needs, but there are some applications that can be tricky. Understanding how Cambridge Viscometers will generate effective results can be helpful for some customers who are evaluating the systems."
Rob asked them to send samples to CVI, and he would run the samples through the ViscoPro 2100. For this task, he installed a 372 flow-through sensor and calibrated a 10-200 cP piston. The 372 sensor outlet was fitted with a needle valve to control flow. He used a simple funnel to introduce the sample into the sensor, and he attached the sensor to a stand at a slight angle to allow air bubbles to escape. This was done to simulate the customer's unique process.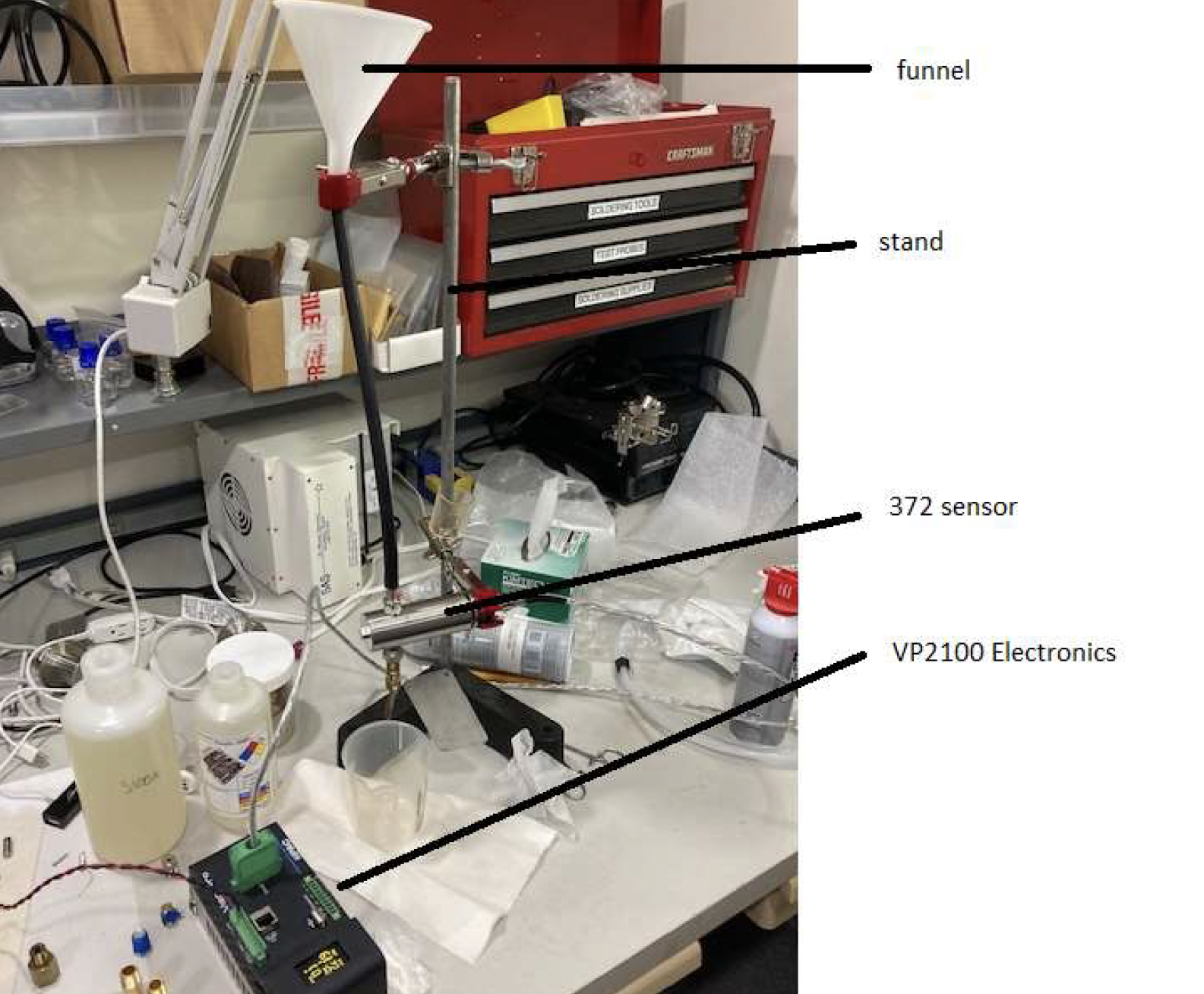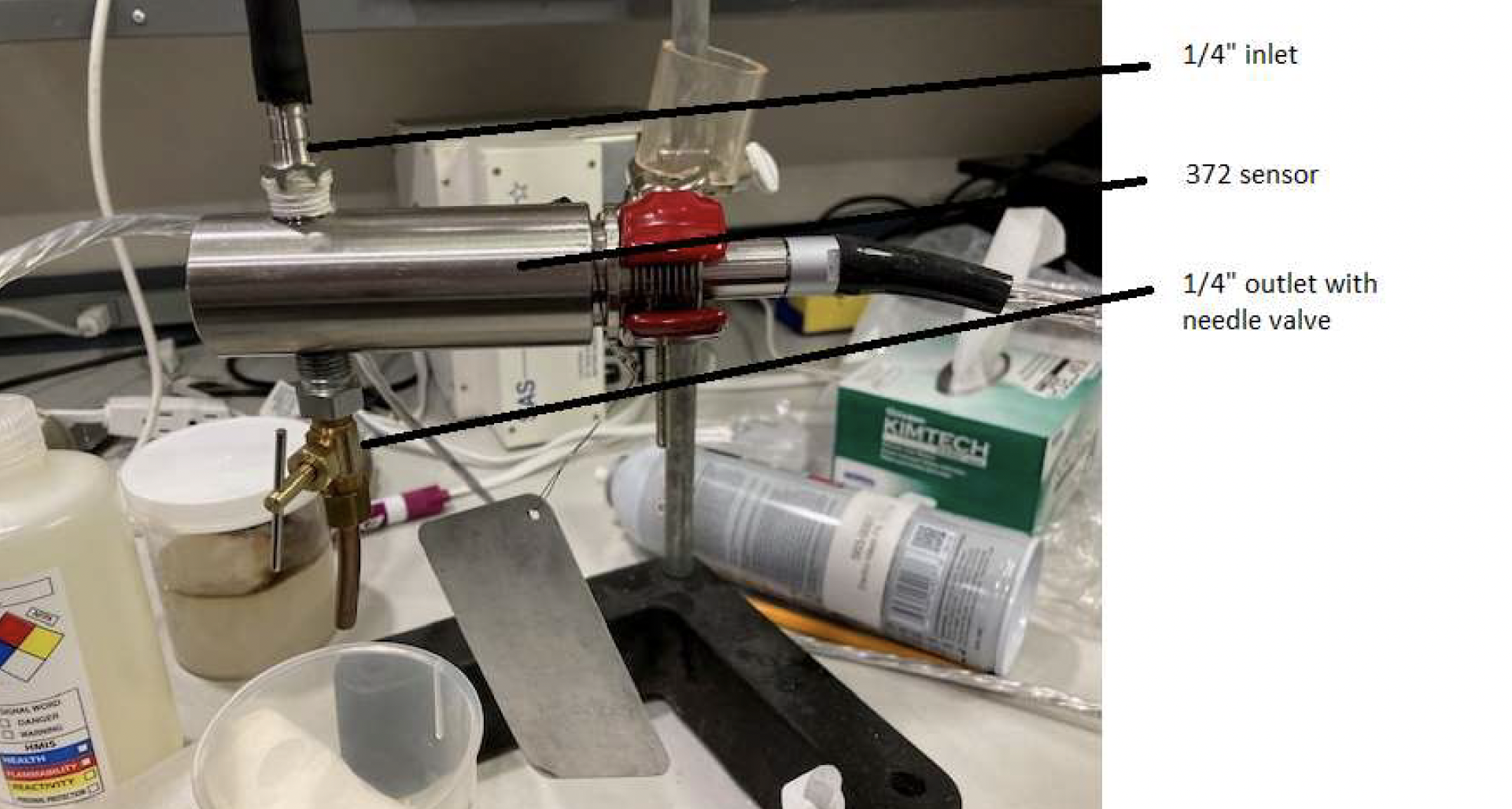 Evaluation of the ViscoPro 2100
Rob ran an initial test to establish a baseline. Then, he thoroughly cleaned the sensor with methanol and dried it with compressed air.
From there, he ran further tests with different amounts of sample. He talked to the customer to understand their processes in their manufacturing environment. This helped him understand how he could vary the experiments in a way that might produce valuable data. An example of this included whether they would have time to allow a longer time for the sensor to drain. A longer drain time meant there would be less residual fluid left in the 372 sensor, and reduced the risk of contamination of future tests. After running several more experiments and gathering data, Rob determined that a longer drain time had a negligible impact on the subsequent tests.
As a result of these tests, Rob was able to report a 17% difference in viscosity values between the two types of lubricants when the residual fluids were allowed to remain in the sensor, and a 33% difference when he thoroughly cleaned the sensor. He was able to recommend a 15-minute drain time after measurement combined with application of a small volume of acetone/methanol solvent. He recommended the ideal amount of fluid to be used. With this approach, his data indicated that it would be likely to achieve a 25% difference in viscosity fluid.
Conclusion
By running a few preliminary tests on samples, Rob was able to provide a real-world example of how a ViscoPro 2100 would perform with their samples, as well as a recommendation for how to get the most out of the viscometer. Further, Rob was able to recommend the specific configuration that would work best for the samples. In this case, he suggested a ViscoPro 2100 DIN rail system, a 372 sensor, and a 10-200cP piston to measure viscosity of the compressor lube oils. Additionally, due to the temperature fluctuations, he recommended included temperature compensated viscosity to eliminate any variations in viscosity readings due to temperature fluctuations.
If you have a complicated application, we invite you to visit our Build Your Viscometer Page, and one of our application engineers will provide invaluable advice on how to get the most out of your CVI viscometer.