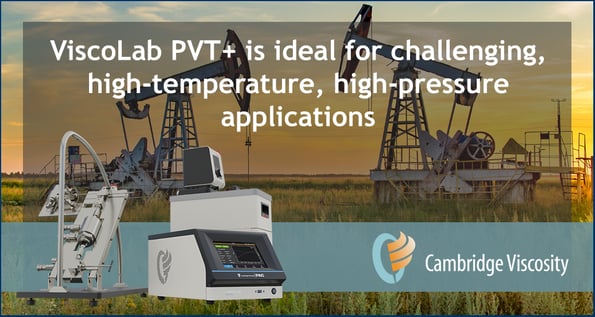 A PVT (Pressure/Viscosity/Temperature) analysis is required several oil applications. PVT measurement provides oil companies a deep understanding of a fluid's characteristics, so they can make better, more informed decisions. Variability in oil is normal, and drillers need to be able to assess the quality of oil, as well as the best method for extraction, production, and processing of the heavy crude. PVT measurement is also used in bearing analysis, to assess lube oil under bearing conditions.
Cambridge Viscosity's new ViscoLab PVT+ viscometer is designed for technically challenging applications like research, oil exploration, enhanced oil recovery (EOR) and bearing analysis, where sample size, pressure, and temperature range are critical.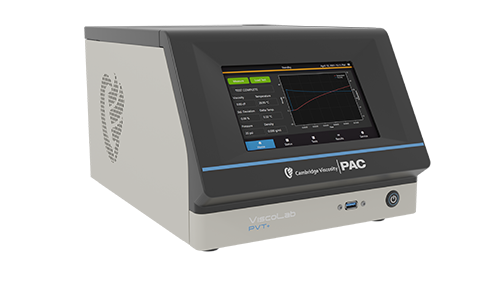 Small Sample Size –We've made sure the sample is requirements is very low – only 6 mL of sample per measurement. In the field, it's not easy to extract a sample, so the small sample size is important. And, sample handling occurs directly from the pressure canister or via a pressure generator, so operator intervention (and operator error!) is reduced.
Wide Measurement Capabilities – The ViscoLab PVT+ can measure viscosity, temperature, pressure, shear rate, TCV, PCV, and density. This single instrument provides a wide range of data that allows operators to accurately assess field conditions.
Rapid Analysis Time –The actual analysis time can vary with applications, but the cycle can usually be completed within 30-45 minutes. This reduces the long lag time that is typical while operators are waiting for analyses to complete.
Automated Testing – Automated customized testing protocols can be set up to trigger testing based on user-defined variables, such as different temperatures.
Easy to Use – We've designed the ViscoLab PVT+ with a touchscreen user interface, which integrates time-stamped viscosity, pressure, temperature, density, and shear rate data into a graph for analysis, storage, and exporting.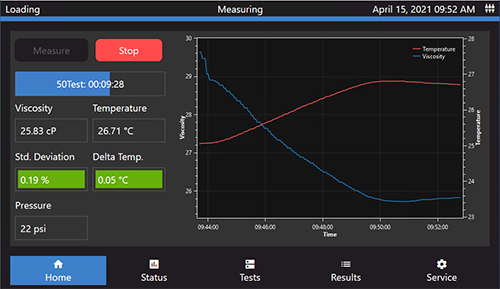 Standard Test Methods – The ViscoLab PVT+ complies with ASTM D7483 and correlates with ASTM D445.
When you're looking for fast and reliable viscosity measurements in extreme applications, the ViscoLab PVT+ is the instrument you need. Talk to one of our application engineers for additional information.