Designed to deliver high levels of accuracy and reliability, CVI's new PVT+ offers unmatched viscosity, pressure and temperature capabilities
The ViscoLab PVT+ is a critical instrument to help operators understand how liquids perform under extreme conditions. Ideal for high-pressure processes like reservoir fluid analysis, phase behavior, and supercritical fluid applications, where the accuracy, speed, and reliability of the measurements can have a multi-million-dollar impact on operations, the PVT+ delivers stable, accurate, and repeatable measurements with statistical certainty.
Recently, Cambridge Viscosity worked with industry expert Jatinder Kalra to develop The Future of Oil Reservoir Analysis. In this article, Jatinder discusses the dynamics of the industry, and how he sees technology changing over the next five years.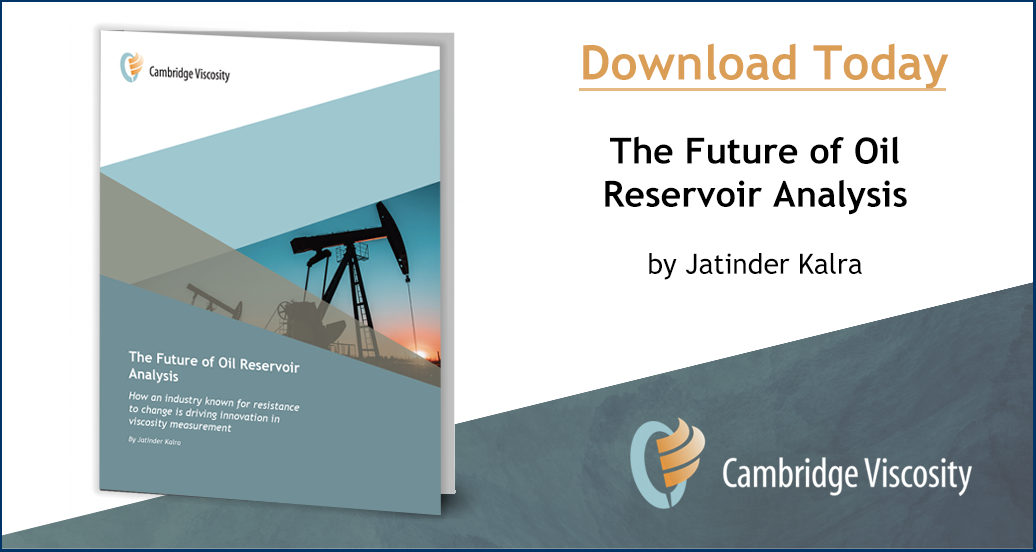 The ViscoLab PVT+ bridges the gap between the traditional needs of the industry and the future requirements. The PVT+ has a long list of features that support the more complex applications that our customers are demanding today, like wider piston ranges that allow pistons to be changed less frequently, saving valuable lab time, and rapid thermal stability that supports a fast return to temperature after a system shutdown. The ViscoLab PVT+ also features automated testing to allow users to design and implement using testing protocols at different temperatures, which can be triggered to start automatically based on conditional variables.
Additionally, the ViscoLab PVT+ features sample stability to reduce the impact of changing conditions on the viscosity measurement, as well as calibration stability, so normal operational vibrations and movement won't impact instrument accuracy. Its user-friendly design includes a touchscreen interface with a customizable home screen, so operators can see the variables that are most important to their work. Full-color graphs are customizable and scalable, and levels of authority can be set up with passwords for enhanced security. An analog input can receive the signal from a separate analog device, such as a flowmeter and a densitometer, and alarms offer a safeguard to warn users before testing goes beyond the established parameters.
If you're interested in more information, reach out to one of our application engineers: