For the 2nd week in a row, we're blogging about our viscometer sensors. Today, we're talking about the 372 sensor. Like all our sensors, the 372 is based on our patented oscillating piston technology. With only a single moving part, the sensor features an electromagnetically driven piston that pushes fluid into a small measurement chamber. A deflector, which is located over the piston, moves fluid into the measurement chamber, while two coils move the piston back and forth at a constant force. Absolute viscosity is measured when proprietary circuitry analyzes the two-way travel time. This method makes for an exceptionally effective viscometer. The sampling area is self cleaning. It maintains calibration so well that a Cambridge viscometer can often run for years without maintenance. It's a reliable, accurate, workhorse of a viscometer.
The 372 is great for applications with high pressures, and it's often used to create Daniel charts, which are viscosity/temperature charts that demonstrate the solubility of a refrigerant/lubricant mixture. In a recent project, CVI took customization a step past what is typical, and we custom-welded special fittings into the ports on either side of the sensor. We don't normally do this, but the client was particularly concerned about the pressures they might hit. By welding the ports, we created a metal-face sealed fitting that is very unlikely to leak in extreme conditions.
Another nice feature of the 372 is that it only requires a 0.25" NPT threaded connection, and it can accommodate tubing. This is great when you need to put your sensor in a tight space that is too small for piping. This is particularly useful for a lot of coating applications. Over the past year, COVID created a significant demand for medical instruments that require coating, like catheters, syringes, and face shields. The fact that the 372 could accommodate small-diameter tubing made it ideal for these critical medical device applications. The 372 also features an optional temperature jacket for temperature control, which was another reason it was selected for medical device applications where maintaining a specific sample temperature was essential for quality control. The temperature jacket maintains sample temperature using a thermally controlled water bath.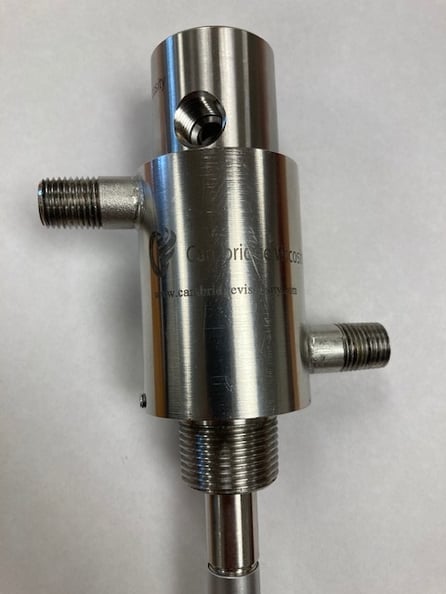 The Cambridge Viscosity 372 sensor with water jacket.
The Cambridge Viscosity 372 sensor is a flow-through viscometer that is used in laboratory and process fluids to provide continuous temperature and viscosity tracking. If you have any questions about whether this sensor is right for your application, contact our application experts.