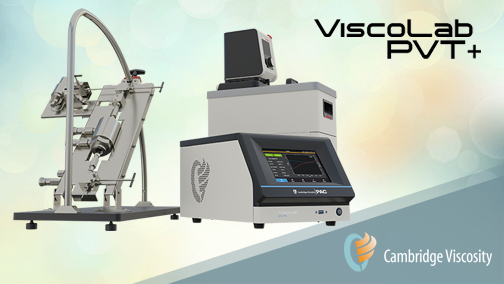 The requirements for viscosity measurement are changing across all industries. PVT labs, which are capital-intense projects, tend to be expensive to set up and run. In order to survive in an uncertain market, PVT labs are cutting costs and reducing manpower. This means they need to automate processes to increase efficiencies, reduce cycle time to maximize productivity, and develop software models using historical data to predict results. The ViscoLab PVT+ is Cambridge Viscosity's answer to those changes. Based on the current and changing demands of the oil and gas industry, Cambridge Viscosity invested significantly in the next generation of its PVT viscometer. The new ViscoLab PVT+:
Enables an easy upgrade of existing systems. Backward compatible with CVI sensors and baths

Saves lab space by consolidating all the measurement peripherals into one single control unit

Adds a built-in control interface for temperature control, pressure, and viscosity readings into the electronics, while eliminating the need for a separate laptop and pressure display.

Offers analog inputs to access external device data, such as a densitometer or flow meter to allow for expanded measured parameters

Determines non-Newtonian behavior with shear sweep test

Runs user pre-defined tests

Increases the span ratio of viscosity ranges from 20:1 to 50:1 resulting in cost savings with a smaller piston set requirement, better repeatability, and higher precision with pistons

Features a built-in database for storing and recalling testing parameters and measurement results

Calibrates quickly with slope/offset

Offers enhanced graphing and reporting capabilities for visualization in real time

Incorporates a USB port for data downloads in CSV format allowing for additional rheological analysis of data.
If you're interested in learning more, download the ViscoLab PVT+ brochure.