Bunker Quality: In-Line Viscosity
Monitoring Vs Sampling - page 3
Earlier this month, CVI released the latest version of VISCOpro software (version P1.08.9) that offers new features as well as an improved user interface. A few of the features include:
Streamlined menus, that require minimal user input
Viscosity displayed in units of Saybolt Seconds Universal (SSU) as well as Centistokes (cSt) and Centipoises (cP)
Self-Cleaning operation of sensor
Maximum Operating Temperature has been increased from 190°C to 370°C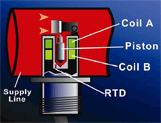 CVI provides a complete line of both process and laboratory viscometers that operate with only one moving part, a stainless steel piston that is forced up and down within a sample of fluid by electromagnetic force. Thanks to a simple design Cambridge viscometers are highly accurate, easy to install and relatively maintenance free.
Thousands of CVI viscometers have been installed with such companies as Maersk Line Ltd, NOL/American President Lines/ASM, Westfalia Separators, General Motors and GE Power Systems.
Get More Information
For more information, email info@cambridgeviscosity.com or call 781 393-6500.