Gravure Ink Viscosity: Viscosity Control Features that Converters are Now Demanding - Page 3
Rotogravure Printing Application Using VISCOpro Viscometers
In this rotogravure application the converter's Bobst Lemantic press utilizes removable ink carts. (See photos at right). When a job is completed the converter removes all hoses, ink tanks and the cart with cylinders and sends them to an off press clean up room. Spare carts, hoses and ink tanks are used to make ready the subsequent job. The use of decentralized control and an VP1500 in-tank system proved to be the easiest for the converter to make-ready and operate. The rugged in tank sensor is simply lowered into the ink tank and automatic sensing of the tank's ink viscosity begins. Flexible solvent lines are also inserted into the tank and add solvent when directed by the automatic controller. Each sensor had its own control at the individual unit where the operators make all the individual units color deck adjustments.

When the job is completed the converter simply takes out the sensor and drops it into a bucket of solvent. The piston automatically cycles and cleans the sensor ink measuring chamber without operator involvement.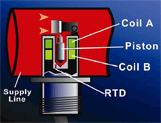 Each in-tank viscometer utilizes a simple, inherently low maintenance sensor which is now available. (See cutaway drawing of ViscoPro sensor at left.) The VISCOpro sensor has no linkages and no seals in the measurement chamber to cause maintenance problems. Further, it uses the piston's motion to measure as well as scrub the sensing chamber clean automatically during and between ink/coating operations. In fact, the company has additional patents applied for this critical function of self-cleaning.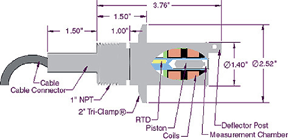 Cutaway of Cambridge Viscosity's VISCOpro Sensor
Showing Temperature Sensor (RTD)
Adjusting for the effects of temperature on viscosity is easily accomplished. Cambridge viscometers, for instance, incorporate a temperature detector in the heart of the sensor so both temperature and viscosity are recorded for each and every measurement. Cambridge's electronics integrates these to calculate temperature-compensated viscosity so that it can tell whether the concentration measured is on target or not, and then take appropriate action.

Cambridge's multi-deck touch-screen display is shown below. A simple touch-screen interface option allows operators to quickly set up the sensors and allows for a quick at glance status of all units.

Two screens accessible at the touch of a finger give operators complete control. Up to twelve units can be displayed on one 7" touch-screen. One button set of viscosity, manual solvent add and cup/sensor calibration makes this control simple and pressroom practical.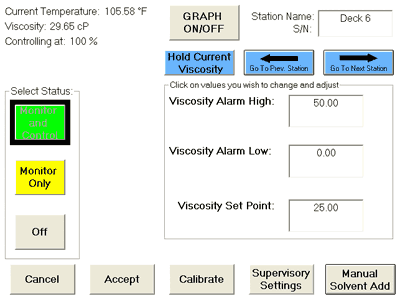 SImple VISCOpro Touch Screen Operator Interface - Screen 1